Behold: a (modest) mountain of mountains with doors.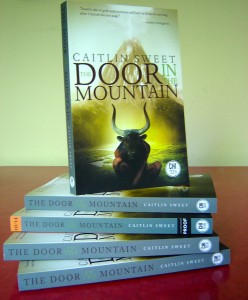 My editor/publisher brought me a bagful of these when she met me for lunch, last week. I returned to the day job with them and immediately sold two, to co-workers who won't be able to come to my launch. The apparent glee with which they carried them away made me reflect on how very lucky I've been, in my writing career—even before it was a career. Parents who encouraged me to bury my nose in other people's books, and then my own. The teacher who suggested that I work on my novel as an independent study project in grade 12 English, and allowed another student to read it instead of an actual, published novel. The first-year undergrad English prof who encouraged us to do one of our assignments as a creative writing piece, read mine, and phoned me to tell me ask what else I'd written, and when he might be able to pick it up at a bookstore. (14 years later, as it turned out.) The Ontario Public Service managers who've understood and valued what I do when I'm not in an office. The co-workers who'll buy anything I write, even though many of them don't like fantasy and won't make it past page 15.
I'm so grateful. I'll express this gratitude publicly on June 1. Please join me.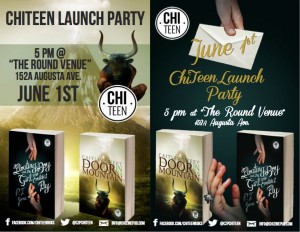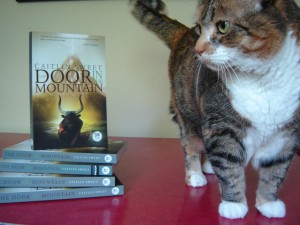 To Sweet's alarm and delight.
If you're in Toronto on the morning of Saturday, June 8, and can make it to the wonderful Merril Collection of Science Fiction, Speculation and Fantasy, check out the Academic Conference of Canadian Science Fiction and Fantasy (ACCSFF). The program looks erudite and engaging. Especially (say I, from a place of profound bias), this portion, which I hear will include "fairy tales/fables, (world) mythologies, monomythic story structure (the Hero's Journey), Caitlin Sweet's The Pattern Scars, the "Gormenghast" series, and a slew of other things."
Oh, Titus: I am not worthy…

The Pattern Scars has just been nominated for a Sunburst Award.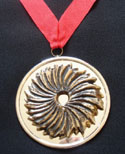 This particular award is close to my heart. For a   couple of years, Lesley Livingston, Adrienne Kress and I lent our bespectacled, sequined charms to the Sunburst auction (photos unavailable, just because). In 2007 I was on the Sunburst jury; among the stacks of books that arrived at my house was one called Blindsight*, which I probably never would have read, otherwise (it being hard science fiction and all).
Yes. This is a special award for a whole whack of reasons, both personal and cultural.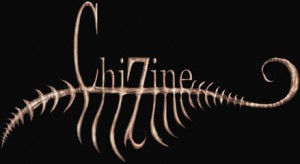 This year I'm nominated alongside ChiZine authors David Nickle and Michael Rowe. You may recognize their names from the Aurora nominations, too. Ah, ChiZine; CZP; publisher of dark, disturbing, surreal fiction – you're the winner, whether or not any of us actually wins.
2012? Pretty okay so far.
*It didn't win. Peter mentions this from time to time.
The Pattern Scars has been nominated for another award.
I can't win this one if you click a little voting dot every day. No–you can vote only once for this one. And it'll cost you.
Here's the link to the nominations:
http://www.prixaurorawards.ca/2012-prix-aurora-award-nominations/
And here's the link to the voting rules:
http://www.prixaurorawards.ca/about-csffa-the-awards2/aurora-award-rules/
Martin Springett, my dear friend and longtime artistic collaborator, has also been nominated for his Pattern Scars work, which you'll find if you click the "Art" tab. Here's a little sample: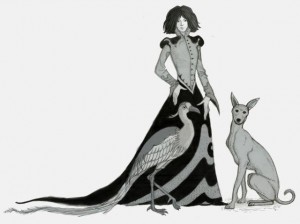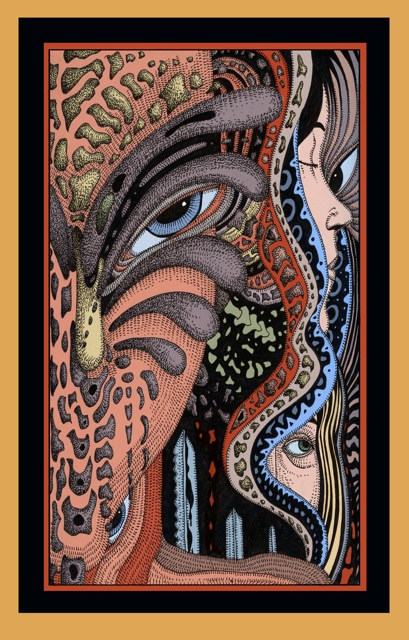 And it just so happens that Peter (Tall Science Fiction Writing Husband o' Mine) has also been nominated, for a lecture he gave in the fall for the SpecFic Colloquium. The last of his lecture slides featured an image of St. Peter's Square, because pedolphiles (he posited) could be the early adopters of the Singularity.
If that doesn't deserve an Aurora, nothing does.
There was a Pattern Scars Google alert in my mailbox this morning. Seems the audio book is now available.
http://www.audible.com/pd/ref=mp_ja_1_3?asin=B007RYXBSU
I listened to the clip while Peter and I and most of the cats were still in bed. It was a little jarring at first, hearing my words in someone else's voice–the "someone else" in this case being Claire Christie. But the moment she hit dialogue–the second she spoke the drunk lord's words, and then the boy Teldaru's, she became them. It was eerie and wonderful and I can't wait to listen to more.
The Pattern Scars. I think. The official announcement won't be made until Thursday, but unless something profoundly untoward happens, I've won.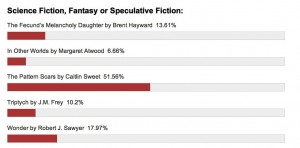 So this is me, bumbling up to a podium and scrabbling around for notes.
Even-more-than-characteristically-effusive thank yous to everyone who clicked for me: my family, friends (actual, Facebookian or both), co-workers at the Ontario Public Service, former neighbours, once and future students, my publishers and fellow ChiZine authors.
Special thanks go out to that Tall Science Fiction Writing Husband o' Mine (TSFWHoM… "this acronym is getting worse all the time"), and to all the readers of his 'crawl. Especial special thanks to David Held for generating that wondrous, infernal graph whose different-coloured lines we watched with an amazement which (like that dark blue line) just climbed, as the days went on.
Thanks to everyone who's already read The Pattern Scars and everyone who's just decided to. I'm so proud of this book. It makes me very, very happy that more of you might soon see why.
Finally, thanks to that as-yet-anonymous person at the CBC who chose the book in the first place.
Aaaand there's the music…

Yes, the voting criteria are loose at best. No, Margaret Atwood's non-fiction anthology about science fiction probably shouldn't have been included in the "Science Fiction, Fantasy or Speculative Fiction" category.
But this is kind of fun anyway.
I have no idea who, among the "CBC's book-loving producers at CBC Books, Canada Reads, Writers & Company, The Next Chapter and more" nominated The Pattern Scars for this award. Apparently there were also online nomination recommendations from readers. Whoever you are: thank you.
Vote early! Vote often! (Daily, in fact, until March 31.)
Because this could, in fact, be really fun.
http://www.cbc.ca/books/2012/03/the-second-annual-cbc-bookie-awards.html