"Beautiful Nightmare." There hasn't yet been a more satisfying description of The Pattern Scars than this—which is appropriate, as this particular description appears in the first "official" review of the book, in the Huffington Post. It's a wonderful review—the kind that makes me feel giddy and solemn at the same time. Ilana Teitelbaum's critique is so eloquent, so full of measured (and even, to me, surprising) insights, that all I can do is pass you directly to her.
http://www.huffingtonpost.com/ilana-teitelbaum/pattern-scars_b_1102105.html
84 Harbord Ave.  Bakka-Phoenix Books.  Saturday, November 5, from 3–5:30(ish).
I'll be there, along with ChiZine Publications and Martin Springett, to mark the official debut of The Pattern Scars.  Come join us!  (There'll be tarot card reading and probably cookies, but we've promised the bookstore owners that we'll avoid Guy Fawkes observances.)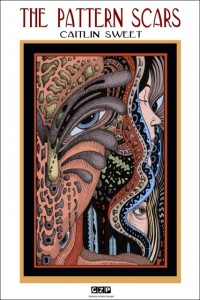 Your introduction to the events of Friday, August 19 is here:
Now mine.
*
Peter. Giant Squid. Your vows make it clear why I love you: your intellectual rigour, and your honesty, and your eloquence, and the way you leaven these with profanity – they're the very things that I fell for, even before you made an x-rated cephalopod reference on a rooftop patio; even before you first called me Unicorn Girl, with that heady mixture of affection and mockery that I also loved, right away.
There are other reasons for my love, of course. One day, just over a year ago, when we were about to find out whether you'd be going to live in St. Clair County, Michigan for a while, you said some angry, desperate things. Though they weren't directed at me, I was still shaken. I've never been very good at heated conversation; never liked talking about things that will be upsetting, to me or anyone else. In this case, though, I did respond, also desperately, and tearfully. When I was done you took a deep breath and said, "You make some good points." And I was amazed – because you'd heard me, despite the incredible stress of your own situation. And that's the thing – you always hear me. Also, you challenge me with that intellectual rigour I've already mentioned – you're fierce and you're loving, and I've never felt so safe or cherished before.
So today, in defiance of biology and, in my case, experience, I am full of hope and joy and pride, as I give myself to US*.
Now, because dumb little verses played such a prominent part in our courtship, I thought I'd close with one.
There are no cats at City Hall,
Though I'd have gladly brought them all.
Banana (who is very fat)
Would make a fine ring-bearing cat.
But they await us at our place,
That magic bungalowish space,
Where we will live out our shared life
As Squid, and Unicornly Wife.
*US=UnicornSquid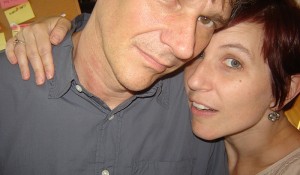 Dear Jeff,
It's been years. Six, to be exact.
I wasn't much of a catch, in 2000. I was an unpublished author who presented you with a first novel that was long on semi-coloned, polyhyphenated-adjectival lyricism and short on plot. You took a pretty gigantic leap of faith when you signed me – and I wasn't experienced or smart enough about the process at that point to be sufficiently grateful. You were patient, relentless, dry, irritating, incisive and wonderful. (I can only imagine some of the polyhyphenated adjectives you'd apply to me.) The sales of my first two books, to Penguin Canada and Random House Germany, were yours – and yet when a Big Genre Agent (BGA) came courting in 2005, I fell for him.
I was all in a tizzy – fresh off the publication of my second book and ready to be told that I was going places. So when BGA said that he saw my writing taking an epic and highly marketable turn, and rattled off the names of some of his other genre clients, I dumped you.
You were patient and sweet when I finally mustered the courage to make the call. "Such is business," you said, as I battled nausea. "You're taking your career in a different direction, and that's OK. I wish you all the best."
I tried and tried to write something epic and highly marketable. I made it to about 50,000 words of the first book of a trilogy, and Penguin Canada types said yes, yes, yes – all the way up to the top guy, who said no: my other books hadn't sold well enough, and his mandate was to increase profits by 72%. (My memory of the exact number is imprecise.) BGA was pretty damn patient with me too. I despaired, after the Penguin deal fell through. The trilogy withered on the vine. I started something else – another trilogy, which he talked through with me: so much talking, because nothing was working. This one eventually did the withering thing, too. When I finally made a start on something else, he said that I should just go with it; he'd read it when I was done.
It took me two years – writing on the streetcar to work, and in cafés on the mornings I didn't have my kids (because there'd been a divorce in there, too). I loved this book. It flowed from the very beginning because it wasn't epic: it was small, dark, ungrand. It was also the tautest story I'd ever told, which convinced me that BGA (and by extension the Big Publishing World) would love it too.
It took him six months to tell me that I was wrong.
It wasn't the first of a trilogy, and it wasn't a paranormal romance, and it wasn't young adult – the only kinds of marketable fantasy, he said. Also, he didn't get it. It was too dark, too claustrophobic; he couldn't find a way in, and therefore couldn't be passionate about it. No passion + no marketability = no deal.
After I'd uncurled myself from the fetal position, I managed to get some other editors and agents to read sample chapters. Their responses were unanimous: a few years ago, before the market crash, yes. Now? Regretfully (and they were unanimously regretful), nope.
In the end, I found ChiZine Publications through writer friends, not an agent. They're small, dark, and ungrand, and they snapped up The Pattern Scarsand slapped a stunningly gorgeous cover on it and will be putting it on shelves and e-readers in September, and I love them.
Meanwhile, there's another book in the works: a young adult. Yes! One of the marketable ones! A re-telling of Beauty and the Beast by way of the Minotaur myth – and a bunch of agents wanted to read it, and one has, and has just (this very morning) said no. The protagonist is unlikable; perhaps I could submit again if I re-wrote from the point-of-view of someone more sympathetic.
And so, like (say) a newly divorced woman who's just torn open a shoe box in the laundry room that's buried under a mountain of bags intended for Goodwill – the shoe box that's filled with all her first boyfriend's letters, and his dumb boutonnière, and the creased photos of him wearing the dumb boutonnière – and then hit Facebook to squint at columns of tiny thumbnail photos in search of his – yes, like her (maybe, sort of), I looked you up again. I found your new agency's website and read your profile, and…
You no longer represent genre authors.
You always said it was the literary elements of my first book that hooked you, not necessarily its fantastical ones, so I guess I'm not surprised. But I'm sad. The newly divorced woman squinting at "Status: Married" – but of course he is; she never really expected anything else, which kind of makes her sadder.
But enough, now. No more hyphens, semi-colons, or adjectives. Just thanks.
Caitlin
Signed, limited edition hardcover editions of  The Pattern Scars can now be pre-ordered HERE.