I have no idea what I was thinking. What the hell was I thinking?
I was 50,000 words in, then. I've since written about 26,000 more. Not bad, right? Not bad for someone who usually requires years, not months, to get into the tens of thousands of words.
Except that my sense of the rightness of the story declines even as its word count goes up. It started out strong and fairly conventional (part I) and continued strong, if not quite as conventional (part II). Part III, though, is quagmire, tire fire, explosion of Silly String.
I've felt like this before, right? I think so, but I don't feel so.
It's too ambitious. That might be it. Part III is a succession of five Marys, all the same; Marys who die while giving birth to their next self. Parthenogenesis and cloning, in cave and deserted manor house and asylum. Five POVs but also only one. A single body with five internal voices that manifest as singing colours.
What the HELL was I thinking.
It's too scattered. That might be it, too. My first three books took years to finish because I wrote them in order, chapter bit by chapter bit, in longhand. I never leapt to an out-of-sequence scene, no matter how vivid that scene might have been in my head. That changed with books four and five. The Laptop Revolution. The Dawn of the Haphazard. I got the books done, but the process felt weird. Unsettled.
Maybe this book represents the Mid-morning of the Haphazard? Or perhaps High Noon, after which some other order will prevail?
I was frequently the student who insisted that this time was going to be the time I actually did get a terrible mark on an exam. The student whose "this time" ended up being a crying of wolf, every time, because I mostly kept doing well. I've fretted about each of my now-published books, too, and they've turned out to be varying degrees of fine, but now…now I might actually lose a book at 76,000 words. (I've lost books at 40,000; working my way up?) "Losing it" may, in fact, mean finishing, many months from now, and sending it to interested agents, and hearing what I heard from my former agent: "I can't sell this." He said that about The Pattern Scars, and it ended up published—but this time. This time I just don't know.
And yet I keep writing, hoping to god there's no wolf.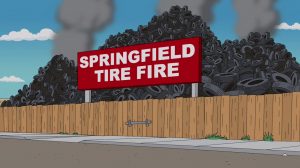 I am really, really falling down on the blogging front. This disappoints me—though I have the very best reason for falling down: I'm writing with the kind of joy and focus I haven't felt since three books ago, with The Pattern Scars.
I did a reading last week, as part of the Words at the Wise reading series at the small but mighty Wise Bar on Bloor West. I've done many readings over the years, the most recent of which have all been via ChiZine Publications, at my launches. I was nervous about this latest one, because it was out of my comfort zone: an organizer and other writers I didn't know; an audience I mostly wouldn't know either—plus (and possibly most nerve-wrackingly) an excerpt that wasn't from a finished book.
The other two authors were Claire Horsnell and Andrew Simpson (who was also the organizer). They read before I did, and their pieces were funny and smart—totally engaging. The small-but-mighty space was full of people who were attentive and appreciative. Of course, I still got my customary right-before jitters. But once I was at the mic and talking, it was all OK. More than OK. I spoke new words—words which, despite the joy and focus with which I've been setting them down on the page, I was afraid might not work aloud. They did.
I fear and resent hope. Hope is an almost embarrassing thing to have felt, when it's crushed, and I'd kind of prefer not to let it push up into my brain at all. But it does, time after here-we-go-again time, and it is now. From Gibraltar in 1781 to Quebec in 1878—from a girl named Ana de la Rosa to a man named Louis Riel—I feel like I have something, here, that might be something. I said at the event last week that reading from a work-in-progress is frequently considered seriously jinxing by writers who are otherwise perfectly sensible, non-superstitious people. Setting down the fact of my newest hope may be similarly foolhardy. But there it is. I'm 50,000 words into a story that excites me beyond even the excitement I felt writing about Bronze Age Crete. (Yes. Truly.)
"A madman came by steamer today from Montreal." That's how it starts. I can't wait to find out how it ends.
Damn you, hope.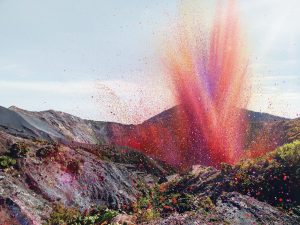 Last year, The Pattern Scars was selected for inclusion in an Aurora Awards "e-bundle", along with some other pretty fine novels. The bundle is now available–and for a mere three weeks. Check it out! Buy it! Read, read, read!
Author Doug Smith provides some background:
"How would you like to own, at an incredible bargain, ten books that readers like yourself have already voted to be the best examples of speculative fiction published in Canada? Well, here's your chance. I'm curating an ebook bundle for StoryBundle.com that contains winners and finalists for Canada's premier speculative fiction award, the Aurora Award.
The Auroras are awarded annually by the Canadian Science Fiction & Fantasy Association (CSFFA) for excellence in Science Fiction and Fantasy. The award started in 1980 as the Casper and was renamed the Aurora for the 1990 awards. Auroras now include eight professional categories and four fan categories.
One of my goals when putting this bundle together, aside from offering the best books possible, was to have a gender balance in the selected authors. Mission accomplished. The bundle includes five female and five male authors. You'll also get a great mix of SF and fantasy, adult and YA novels, as well as a selection of short fiction. The bundle also reflects the long history of the Auroras, with titles spanning over twenty years of Canadian speculative fiction. Here's what you'll get in the bundle…
Starplex from Robert J. Sawyer, takes you on board a giant exploration starship crewed by humans, dolphins, and extraterrestrials as it embarks on a journey covering billions of years of time and millions of light-years of space. It was also a finalist for both the Hugo and Nebula awards.
Dave Duncan's West of January is a rare standalone SF novel from a master writer of fantasy series. In it, astounding world building drives a thought-provoking tale of a strange, slowly rotating planet where the habitable zone shifts over a human lifespan.
Karin Lowachee's Cagebird is the third book set in her Warchild universe about a galaxy spanning human-alien war. It's a standalone novel, so don't worry if you haven't read the first two. (But you should—Warchild won the Warner Aspect First Novel Award and was an Aurora finalist.)
Susan McGregor contributes The Tattooed Witch, the first book in her fantasy trilogy set during the Spanish Inquisition and wonderfully infused with Romany culture of the time. In it, a young woman must turn to her dead mother's magical legacy to battle the Grand Inquisitor himself.
Caitlin Sweet's The Pattern Scars immerses you in the world of a young female seer able to see the future but not change it. A dark, literary fantasy with believable characters and beautiful prose, the book also won the CBC Bookies Award in 2012.
Candas Jane Dorsey's Black Wine is a much-praised novel that can be viewed as both fantasy and SF. It is challenging, memorable, with the beautiful prose one would expect from cross-genre writer who is also a poet. It also won the James Tiptree Jr. Award and the Crawford Award.
Sean Stewart provides an excellent young adult fantasy story with Nobody's Son, in which the hero defeats the beast and wins the hand of the princess in the first chapter—and then learns what fairy tales never tell you.
The bundle also demonstrates the rich tradition of Canadian short speculative fiction, with an anthology and two collections. The anthology Blood & Water, edited by three-time Aurora winner Hayden Trenholm, gives us timely tales of battles over our most precious resource, fueled by climate change, population growth, and humanity's natural aggression.
Gifts for the One who Comes After, by Helen Marshall, is a brilliant introduction to the work of one of the brightest new lights in short fiction. Gifts also won the World Fantasy Award and was short-listed for both the British Fantasy Award and the Bram Stoker Award.
My own collection, Chimerascope¸ contains a mix of SF, fantasy, and horror, including an Aurora winner, seven Aurora finalists, and a Best New Horror selection. The collection was also a finalist for the Sunburst Award and the CBC Bookies award.
And if you are looking for still more pedigree, the bundle includes two CSFFA Hall of Fame inductees (Sawyer and Duncan), as well as a current nominee (Dorsey).
At StoryBundle, you decide what price you want to pay. For $5 (or more, if you feel generous), you'll get the basic bundle of five books in any eBook format worldwide:
Blood and Water, edited by Hayden Trenholm
Cagebird, by Karin Lowachee
Gifts for the One Who Comes After, by Helen Marshall
Nobody's Son, by Sean Stewart
The Pattern Scars, by Caitlin Sweet
If you pay $14 (or more, if you feel generous), you'll get these five bonus books as well:
Black Wine, by Candas Jane Dorsey
Chimerascope, by Douglas Smith
Starplex, by Robert J. Sawyer
The Tattooed Witch, by Susan McGregor
West of January, by Dave Duncan
The Aurora Award bundle runs for three weeks only, from March 30 to April 21. It's a fantastic deal and a great way to pick up titles already voted by readers like yourself as the best of Canadian SF and fantasy. Click here to check out this great ebook bundle."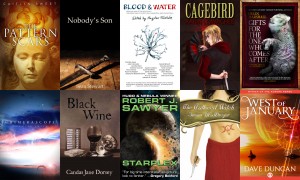 When I was 14, baking in summer sunshine on a friend's upper-floor balcony, I decided to begin writing a history of the relationship between Alexander the Great and his best friend/lover, Hephaestion. This wouldn't be a fictionalized trifle: it would be academic, serious—and yet it would be shot through with creative re-imaginings and deft scene-setting. I could feel the scope of it, widening and widening behind my eyes. My heart was hammering. I drew a blank piece of three-ring paper out of my knapsack. With confidence and a flourish of underline, I wrote a title I can no longer recall. I believe I made it one line in (the line went something like, "Alexander the Great met Hephaestion, son of Amyntor, when they were boys, under the tutelage of Aristotle, at Mieza"). And that was it. I chewed the pen cap. I stared at the paper. I sensed a pall that had no chance against the summer sunshine.
The scope was wide, all right: it widened and widened behind my eyes and farther yet, to a place way beyond the confines of my skull. This was a big undertaking. It was scarily huge. It would require libraries and dry, dull texts that wouldn't read at all like Mary Renault. I admitted this to myself, on the balcony, and wanted to cry.
Months later, I wrote the first of my many Alexander stories. Forget biography: fiction was how I'd always wanted to do this. And anyway, it was easier. Quicker. More fun.
Decades later, I toyed with the idea of writing something about Louis Riel, set at the insane asylum in Quebec where he was patient, for a time. "Toyed with" is, in fact, too glib a term: I read and scribbled and read some more. I researched. I bookmarked. Spent months plotting things out, after spending hours on the phone with my agent. Louis Riel. The story was breathtakingly exciting. The story was nauseatingly scary. He was a real man: he left letters, diaries, legacy; he left people who knew, admired, hated, loved him, and people who felt powerful things for him still. Who was I to attempt to capture any of this? How could I sacrifice the truth of what that sanitarium had really been for a magic-realist vision of how it never was?
I didn't end up writing a word of this one. Even my attempt at that biography of Alexander and Hephaestion was more productive.
My forays into a fantastical Bronze Age, thankfully, were a delight. I did just enough research to capture some of the broad strokes, but the rest was imagined—and that was okay, because the story came from myth. Ah, myth: the ultimate in plausible deniability. Don't like what I chose to do with this plot element? It happens to be consistent with a very old version of the myth. And anyway: it's myth, people. It never happened—or we can never prove it did, anyway. I'm just the latest in a long line of interpreters, layering on my own images and personalities and twists. Sure, I might have kind of wanted to make a stab at actual Bronze Age historical fiction—but that would have taken a ton of research, and despite all of the research, I could have been wrong or lame about something, and people might have called me out on this.
I write fantasy, in part, because of a heady, addictive need to seek out wonder, to ask profound, elemental human questions via other worlds, using imagery both impossible and immediate. These reasons are easy to give—but there are others. Yup. Laziness and fear are also part of why I write fantasy.
Even without the historical fiction angle: laziness and fear. Take The Pattern Scars, which is narrated by a young woman of extremely humble origins who ends up living in the royal court. Readers have commented on how impressed they are that I chose to use the first-person point of view of a character who's close to the great goings-on of the highest in the realm, but not quite there: someone who's privy to some important conversations, but not nearly all of them. One reader might even have referred to this choice of mine as "brave."
First of all, the "commoner in the court of the king" trope is exactly that: a trope. And it didn't feel like a brave choice; it felt like a necessary one. I wanted more of that plausible deniability. Political decisions that shape history? Not sure I'm up to writing about that—so Nola wasn't in the room when those decisions were made. Battlefield strategy? Oh god, no: she hears there might be some, at some point, but that's about it.
There are narrative reasons other than lazy fear for my point-of-view choices, of course. I'm genuinely fascinated by the idea of thrusting regular people into situations that would normally be beyond them: fish-out-of-water characters, stand-ins for the reader, carefully or fretfully navigating strangeness, rather than striding about knowing everything already.
Lazy fear and narrative appeal are not, it seems, mutually exclusive.
I'm between books now, struggling to come up with what's next. I'm giddy with barely-formed ideas, snippets gleaned from articles, photos, maps, the tangles and tangents of Wikipedia. I'm scared, because the business-y ground beneath my feet isn't so much bedrock as it is sinkhole-ridden sand, and I want to make the right choice, for both market and me. So what is next?
What about historical fiction? I'm not 14 anymore, and the Internet exists now: surely I could essay a subject both obscure and possible to substantiate. A fresh new take on fill-in-the-blank; a "wow, I had no idea that was happening in Canada in 1877!" kind of thing.
Literary spins on historical fiction seem to sell, in Canada. They seem to do well, critically. Some of them even involve a whiff or two of fantasy—few enough whiffs, somehow, to keep these novels off the genre shelves. Part of me is eager to try a spin like this. It would stretch my writerly abilities, get me out of my comfort zone. It might garner me some attention outside the genre world—something I've never even seriously envisioned, but which might be kind of cool.
But what if someone calls me out on something? "Does she seriously think a working-class Victorian child would speak that way?" "The architecture of the workhouse is all wrong!" "Her grasp of animal husbandry is loose at best."
I'm kind of trying, though. I've started to make notes on some of those exhilarating, mostly formless, historically-based ideas I've been having—but the impulse toward lazy fear is already kicking in. Too much work to do this "straight", and the accuracy stakes are high; why not do the usual Sweetian thing? Historical fantasy, mythology-based fantasy, contemporary fantasy: in the past month or so, I haven't had a single idea that hasn't become infested with fantasy elements shortly thereafter.
I should probably start writing and see what happens. If research happens, maybe that's fine. If fantasy happens, that's fine too. I should stop trying to crystal-ball the market, and just follow that overthinking, overwrought muse of mine.
Stay tuned.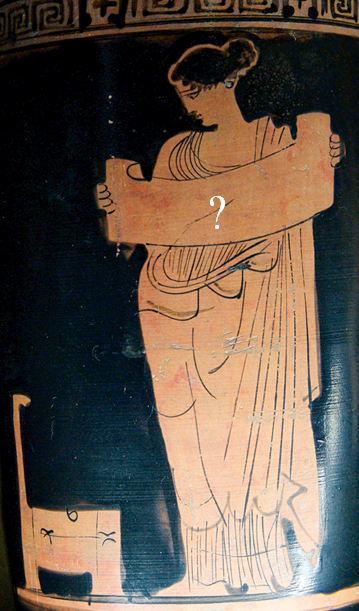 Star Wars: The Force Awakens spoilers below. They're not big ones, but I would have been irritated if I'd read something like this before I'd seen the movie. So, to those who care: Consider yourselves warned.
*
I was once Luke Skywalker's wife. Yup: Luke's. Not Han's—when I was seven, Han did nothing for me. I had no idea who David Cassidy was: there were no feathery-haired blond boys in my life at all, until Luke ran across the sand of Tatooine, whining at Uncle Owen. I didn't care about the whining. I didn't know what bad acting was. Luke was my one and only 70s fixation—and he stayed with me well into the 80s, long past the time when I should have turned teenage eyes to Han, instead.
And yes: I married Luke. I added a few years to my age and made myself 16 (even in my fantasy I knew that 13 was a little young). I fast-forwarded my Empire Strikes Back soundtrack tape to the part right at the end, when Luke's getting his mechanical hand and the Falcon is preparing to zip off and find carbon-frozen Han. I'd listen in the dark, squeezing my eyes shut, imagining our very own little cave-house on Tatooine. Imagining how he'd look in moonlit darkness. Imagining…well, whatever I could, at that point.
Oh—and I was a Jedi too. And my black robes were very flattering.
Every time I watched the movies, in the years after they came out, I felt echoes of the me who'd longed for the whiny farm boy in the white tunic, the impatient apprentice in the orange flight suit, the somber man in Jedi black. I remembered my yearning for fantasy and escape so well that I still seemed to be feeling it.
Fantasy. Escape. Love. Youth. From 1977 to 1983, Star Wars and I were all about these things (which a Jedi craves not, perhaps. I never said I was devout).
Now, 32 years later, there's a new film featuring the old faces. Old places too, though they might have different names (Tatooine has double vowels; Jakku has double consonants. Good enough). Old faces, old places, and the kind of fantasy and escape that will always feel young.
Manuscripts' worth of reviews have already been written about Star Wars: The Force Awakens since it came out yesterday. Many of them have commented (whether favourably or scornfully) on the myriad ways in which it hews to the 1977 plot. Yes: secret plans in cute, blooping droids; baddies on a giant, killer space orb; lightsaber duels and face masks; parenting and mentoring gone badly wrong. All of this is back, but it all seems new.
One thing I haven't yet read about, possibly because of the moratorium on spoilers, is Han and Leia. Everything moves fast, and the new, understandably, gets more screen time than the old, so we don't see that much of them. What we do see, though, is remarkable. [Here begin my own fairly modest spoilers.] I imagine that, left to the man who created them, Han and Leia likely would have tied some sort of galactic knot a couple of days after that second Death Star blew and the Ewoks stopped drumming on Stormtrooper helmets. (Yub nub!) Thirty years later they'd still be together—happy, if careworn, bantering like the cocky smuggler and princess with hair buns I bet they'd always have been, to Lucas.
J.J. Abrams didn't go there.
Maybe they were married, at some point: we don't find out. They were a couple long enough to have a son and raise him to almost-adulthood; at one point Leia says something like, "I lost you when I lost him." She's still a princess; she's also a general. He's no longer a general; he's back to being a smuggler. They are iterations of who they were 32 years ago—but they aren't together. There's regret between them. Sadness. A mature, weary connection that's probably too complicated to be called love.
When Luke gazed at the Tatooine sunset, in Star Wars IV, the 7-year-old me imagined love. When Han and Leia gaze at each other, in Star Wars VII, I see what I've learned about it. Marriage, children, divorce. Regret, sadness, connection. Things that work, for a time, then don't.
When I examine this critically, I acknowledge that, in ascribing depth and complexity to incredibly brief interactions, I may well be projecting almost as much today as I did back when. That's OK, though. Star Wars first hit me at a time when my critical faculties were nascent at best (see first paragraph), and I feel no need to employ them now (likely something Abrams was banking on, and something he will, in fact, take to the bank). I'm going with it emotionally, as I always have—and the emotions are older. The connection is as real as the escape.
Thank the Maker.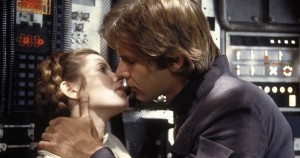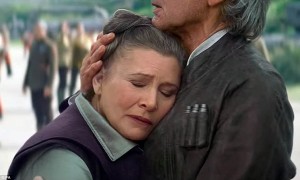 The Flame in the Maze is real. Here I am at its debut, on December 7th.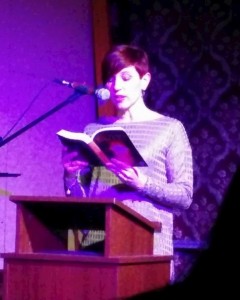 Yes: it's in the world—and it's the end of the story I started writing years ago, in The Door in the Mountain. I'd be hazy on the precise number of those years, except that I remember writing a particular scene by Peter's bedside in the hospital, as he recovered from almost dying of necrotizing fasciitis. February 2011, that was—and I was already a ways into the story. And now it's finally done.
I don't write acknowledgements in my books—something I've mentioned before, on this blog. But I have to thank someone, here and now: Samantha Beiko.
When The Pattern Scars was released, it came out in limited edition hardcover as well as trade paperback. That hardcover was a thing of almost unbearable beauty. Part of what made it so beautiful were its endpapers, which, my editor/publisher informed me, had been crafted by one Sam Beiko. Some young thing, insanely gifted in the visual arts department, who'd ended up in lucky ChiZine's orbit.
That was the end of 2011. In 2015, I discovered that Sam wasn't only insanely gifted in the visual arts department: she was rich in words, too. She plunged into The Flame in the Maze: she commented and inquired; she recommended and annotated. She also identified a MAJOR chronological inconsistency I'd never noticed, and probably never would have.
The surpassing beauty of this new relationship ended up being its link to the past. Sam edited my words, yes, but she also took them and made them into an image—a map of this book, in all its twisty-turny permutations. I sent her a disaster of a Word file (with arrows and squiggly lines and small-caps text), and she turned it into this: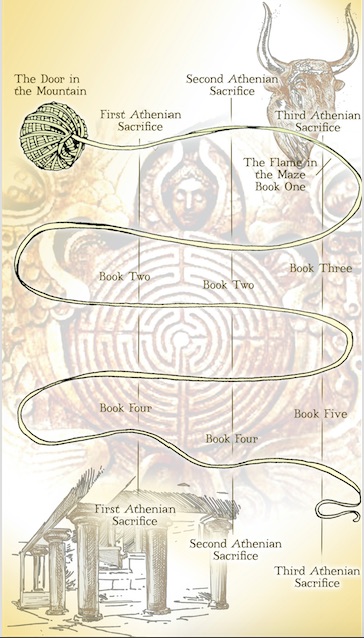 So, Sam: I acknowledge you, with delight and thanks. Let's do it again, sometime.
Sometime in 1984, my friend Katherine gave me a mixed tape. (I just can't bring myself to use the current "mixtape" spelling. I am middle-aged and refuse to be taught this new trick.) Sides A and B were chock-a-block with songs by a Chris de Burgh, from Ireland. I listened. I loved. The epic, balladic sweep of some of them; the quiet intimacy of others. The shameless sentimentality of most. (Even at 14, I was pretty clear on this quality.) I loved them all.
As the years went by, I wore out many more de Burgh cassettes, both mixed and purchased. I listened to them so often, in fact, that warped tape sounds became an integral part of my memories of the songs. I'd re-spool the most stubbornly self-destructive of the tapes, light-headed with dread—because if the re-spooling didn't work there'd be nothing for it but to buy the thing again, and there was only so much allowance to go around.
When I was in grade 10, "The Tower"—a beautiful, lushly scored, fairy-tale parable of a song—inspired me to try something new: fan fiction (though I didn't know this term at the time). I took de Burgh's words, his story, and transformed them into my own. Somehow I ended up giving the two typed pages to my grade 10 history teacher to read (such a browner, me)—and she, in turn, read them to her young daughter. This was a breakthrough moment in my writerly life: someone I didn't know had listened to and loved something I'd written. (So thrilled was I that it didn't occur to me until much later that Mrs. Whelan might have been embellishing, or even outright lying, to spare my feelings.)
Katherine and I realized the dream of our teenage lives in grade 11, when we saw Chris de Burgh at Maple Leaf Gardens. Apparently my sing-along gusto was intensely embarrassing to her, and possibly unsettling to those around us in the nosebleed seats. I was oblivious to all that. "Borderline"? "Spaceman"? "Transmission Ends"? I was transported; I had to sing.
Last night, way too many years after that Maple Leaf Gardens magic, Katherine and I saw him again, from our definitely-not-nosebleed-seats at the Sony Centre for the Performing Arts. I didn't know the first song, but I was in tears anyway, the moment he started singing it. Serious, streaming tears.
Another time he made me cry? When I was 14, lying in my bedroom—lit only with glow-in-the-dark-stars, once the other lights were off—listening as his voice rose to unbearable sweetness: And when you lie beside me / Soft and quiet in the night / I often listen to the rhythm of your heartbeat giving life… I had no idea how to deal with the intensity of my own longing. It was huge. It hurt. It hurt that I hadn't felt anything close to what he was singing about; for some reason it also hurt knowing that I would, someday. Last night I cried because I was right, at 14, and because I was 14, once, and because his voice is still so sweet.
"The Lady in Red", possibly his most famous song, was one of my least favourite. Still: when it came on at the 1986 Crescent Boys' School semi-formal, I was wearing a red dress and my very first heels (2 inches at most), and my boyfriend wrapped his hockey-player arms around me and buried his face in my hair and sang along, in his tone-deaf way, and life just couldn't have been better. Last night—yup. Tears, as I remembered.
And we met someone. Katherine was on my left; on my right was a young man named Sina, a doctor who came to Toronto from Iran six years ago. Just a year later, de Burgh performed in Iran with a prominent group of Iranian musicians. At last night's concert, during the closing chords of another song I didn't recognize (one of the sentimental ones, full of "I love you"s, both sung and projected, in a variety of languages), I heard Sina suck in his breath. Not just him, either—many of the audience members. "That last thing he said," Sina told me, "was 'I love you' in Farsi. And did you hear? Did you hear how many Persians there are here, who understood?"
After de Burgh and his backing orchestra performed "Spanish Train", Sina's must-hear song, he turned to me and smiled a huge, dazzling smile and declared, "Now I can die happy." Delighted, delightful hyperbole—and he told me I could quote him.
It was a pretty sodden, wondrous evening, all in all. A celebration of a precious and enduring friendship; a deep plunge into nostalgia, and the crazy-liberating joy of songs that aren't ironic at all, and don't care to be. An encounter with a person for whom these things matter too.
Life just couldn't have been better.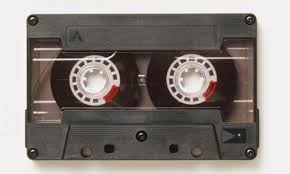 I finished the first draft of The Door in the Mountain: the Redoorening (working title) three weeks ago today. Peter read it (typing comments whilst I sat beside him, writhing and sometimes squeaking); my editor will read it closer to the end of the month. And already I'm wondering—and already people are asking—what'll be next. It's like when Emma was writhing and sometimes squeaking, only weeks old, in the centre of some adoring crowd of friends and/or family: someone would say, "So—you thinking about the next one at all?" Then and now, re: procreation and creation, my answer is a muddled, at best: "How dare you! I'm not thinking about the next one at all! Except that I kind of am, because this was a huge deal, and I did it, and I feel exhausted and triumphant, and I know I want to do it again. Oh dear."
So. Once the edits are done, whenever that might be, what will be next?
Here's a stab at a list.
1. Louis Riel. The vast horribleness of an insane asylum in Quebec. A nearby manor house, once lived in by the man who would become Queen Victoria's father. Madness and secrets and danger.
2. Present-day Liberty Village in west-end Toronto. A woman. A townhouse. Long-ago Liberty Village, which spits up the ghost of a man who was an inmate in the vast horribleness that was the Toronto Prison. Lust and secrets and danger.
3. Persephone. The same world as Ariadne and Chara's: godmarks and familiar-but-reimagined mythic territory.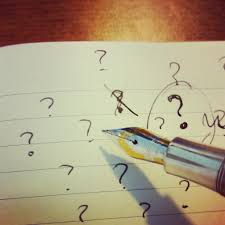 Book Two: 59,549 words. Some of those words are plot notes I've incorporated into the text—but basically: 59,500 words. And they all terrify me.
It's true: I've never known how my books are going to end until I've been mere pages away from their respective endings. But this book is different. I've written it entirely via laptop, as opposed to scribbling it on the ruled pages of notebooks. This electronic willy-nilliness has led to some unprecedented, wondrous and terrifying writing behaviours. To wit: I'm writing ANYTHING THAT COMES TO ME. It doesn't matter if Plot Thing #Sort of Near the End comes waaaay past Plot Thing #Mired in the Ghastly Middle, or #Even Less Sort of Near the End as That Other Thing: I'm writing whatever's easiest to write.
It was not ever thus.
I used to make my painfully sedate way through stories, giving each moment and scene whatever time it required to be born. I used to spend weeks sketching out what had to happen next, because there'd be no ending without it—no culmination without a methodically constructed arc. Remember: I never, ever knew how these stories would end. And yet I had to follow some sort of linear path; had to linger and wait, making space for what was next, and next after that, because to jump ahead would somehow (as in a bad time travel movie) jeopardize the integrity of all that had not yet gone before.
To wit, take 2: When I was starting to think about the book that would become The Pattern Scars, I envisioned a scene: a pivotal one, in which a case of deliberately mistaken identity would be exposed. I had no idea what the context would be: I knew only that there would be a scene like this. I didn't write the scene. I spent days and weeks and months grappling with all the events that would lead to this scene—and when I finally got there, it was orgasmically good and right and justified—delayed gratification rewarded.
Not this time. There's not a single linear thing going on, in this second Minotaur book. I'm seizing images and bits of scenes, no matter where they might come in the story, and I'm writing them. On my laptop. In a file that's now called "Consolidated MS", because for many many months it was divvied into four separate bits.
What am I DOING?
The downside: this is undiscovered territory, and I might make a mess of navigating it.
The upside: this is undiscovered territory, and I might realize that mapping it can be both random and GREAT.
The moral of the story's story: do not assume you've definitively figured out your own creative process. Do not. You could move from a spiral-bound notebook to a MacBook Air. You, who've always needed to see the Big Picture, might see an ending before you understand how to get there, or a beginning with no apparent ending. You might use a pencil instead of a pen. You might start writing on the streetcar instead of at the desk you've been trying to write at for years (all the things in alignment: the view, the paper clip receptacle, the photos of that bleak and beautiful hillside at Mycenae).
Here Be Dragons. ROAWR. Also: YIKES.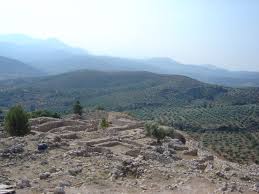 Ever since Chip the Cat died a couple of weeks ago, I've been trying to figure out how to write about it. Not his death, only: the others I've witnessed. And not just those: the births, too. Because I've been thinking, in a helpless, formless way, about how our bodies fight to be born, and to die; about struggle: how we're told we should face it, and how we actually do.
*
They're not 'contractions'; they're 'surges.' Take away the negative connotations. Manage the pain by imagining your body as a rose, unfurling bit by bit to the sun that is your labour, your baby. Be centred and calm. And hey: you might even have an orgasm! Many women do, in labour!
I tried so hard to listen to words like these, as my first baby's birth approached. I wanted to believe them—even the ones that made me wince because they were so clumsy and trite. I knew there would be pain. I told myself that I'd be dignified and quiet, like the women in the birth videos I'd watched. Dignified, quiet, rosy, surging with strength and orgasms.
Near the end of that first labour of mine, some tiny, lucid part of my brain thought: "Who's screaming like that? Geez." A few moments or hours later, that lucid part thought: "Oh man. That's me."
I was not a rose. I had not a single orgasm. I was a yowling, writhing beast (nope—no meds) with a brain that had shrunk to pinprickedness within the vista of pain that was my body. "I" was gone. Small-scale time was gone; what was left was primordial and forever. The body "I" had been in was fighting, scrabbling, straining, making all sorts of noise and expelling all sorts of fluids.
But then I started to push, and I remembered what time it was, and I saw my sister's face at the foot of the bed, and it was my baby who was doing most of the struggling. I'd seen that model pelvis, in my prenatal classes; I'd seen how the poor floppy fetus-doll had to contort to get itself free. (Stupid bipedalism, with its morphological demands.) It took my real baby only 20 minutes, but they must have been insanely difficult ones. She was compressed, trapped; she was pushed down, inexorably and without any say in the matter. She barely cried, after my body had expelled her. She lifted her bald, bloody head from my chest and mewed a bit, then flopped down again, as weak and exhausted as I was. And I, fully returned to "me"ness, crooned and cooed—back in residence; back in control.
I've been at about 25 labours other than my own, and I know how different birth can look. Some women, even without pharmacological assistance, go very, very quiet. One of these, after yet another intense, silent contraction, grabbed my hand and whispered, "I think I'm going to die. When will this end?" I don't remember what I said. But not even an hour later, her own baby girl was lying on her chest, and she was laughing, beyond weary, her mind returned to her body, so that both felt like hers again.
*
Why can't she just accept that she's dying? Why can't she make peace with it? It would be so much easier…
In early 1999, when I got pregnant, my best friend Alison already had cancer. In enormously distressing parallel, our bellies swelled. While I expanded everywhere, though, she shrank. My hair grew thicker; hers fell out. But we both slept a lot, then had trouble sleeping. We both went off food, got cravings, felt better, went off food again. Our bodies reacted together to two very different sorts of invasions.
Oh, Dylan Thomas: you wrote them—those words about not going gently. And Alison didn't. She was the sweetest, happiest person—and she couldn't accept anything except the injustice. "I'm 30. 30! How am I supposed to be okay with this?"
When she finally did admit to me that she was going to die, it wasn't a relief to either of us. It was real, and it was terrible, and there was absolutely no catharsis of any kind.
At noon on the day she died, she was agitated: her clawed hands swiped at mine; her cracked lips moved; her eyes (blue and black and yellow) widened and widened and refused to close, even in a blink. She moaned, low and rhythmically. Her body was stiff, convulsive, so delicate and defiant, after days of comparative listlessness, that I went back to the hospital that night. She was still, by then. Her eyes were half-closed; they'd given her a sedative, after her sister had arrived, at long last, from out of town. Her sister had gone home, by the time I arrived. I hunkered down beside her, and her husband said, "She's drooling" and we watched the clear, thin stream turn dark brown and molasses-thick, and someone yelled, and someone got the head of the bed up so that the fluid would drain somewhere—and her bird-chest rose, and her head lolled, and then her bird-chest stayed hollow and low, and even as the fluid continued to trickle, that was all.
*
He was old. He'd had a good life. At least he wasn't sick; he didn't have to suffer.
My sister and I lay on a pullout couch and listened to our grandfather dying, in the next room. The verb should definitely be past continuous: he was dying. It was loud, and it took a long time.
He was 93. He wanted to die—he'd said so countless times, usually on his birthday, with a wry, sad smile beneath his pencil mustache. "I never wanted to live this long…" And yet when the time came, "he", at last (it seemed), was gone—but his body fought. And fought. It moaned: rising, peaking, fading sounds that repeated and repeated, for hours. Everything was suspended, hanging in some primordial place where such things happen, again and again, forever.
The moans stopped sometime after the sun rose. The room was bright as my mother, my sister and I stood looking down at him—at the body on the bed. The morphine drip had been turned off. His breathing was slow, slower. Thick brown fluid oozed out of his mouth, and I said, "This is what happened with Alison, right before…" Later, my mother told me this had reassured her—because what do you think, when you see thick brown fluid and you've never seen it before and you're so painfully, helplessly present, watching someone else who isn't, any more?
Except that I can't know that. Maybe grandpa was still there, behind the paper-thin eyelids. Maybe he thought, "Well I'll be darned: there's a red-breasted nuthatch on the bird feeder I had the girls put up outside my window!" or "ohthankgodit'snearlyoverthankgod"
But all I could see was his body's struggle, and its stopping.
 *
He had a good life. He was lucky. At least he went peacefully.
Chip the Cat was given an injection—a sedative, so that he wouldn't feel the killing fluid when it went in. Only he didn't react to it the way he was supposed to. He growled and whined. He twisted around between us until we let him jump down off the vet's couch. He wobbled, stumbled, sank onto his haunches before he tried to walk some more. His eyes were wide, all pupil. He dragged his leukemia-wasted body around the room until he found the darkest possible place, behind the toilet. Then he hunkered down. Waiting? Feeling what? Knowing what?
When the killing fluid went in, 15 minutes later, he didn't flinch.
An hour later, when Peter lifted Chip's body up to carry him outside to the waiting hole, there was a rush of fetid air.
A rush of rot; a blurp of placenta; a slow, darkening, thinning stream. Bodies struggling, striving, surrendering.
*
 "Why?' is always the most difficult question to answer. You know where you are when someone asks you 'What's the time?' or 'When was the battle of 1066?' or 'How do these seatbelts work that go tight when you slam the brakes on, Daddy?' The answers are easy and are, respectively, 'Seven-thirty in the evening,' 'Ten-fifteen in the morning,' and 'Don't ask stupid questions."
― Douglas Adams, The Salmon of Doubt