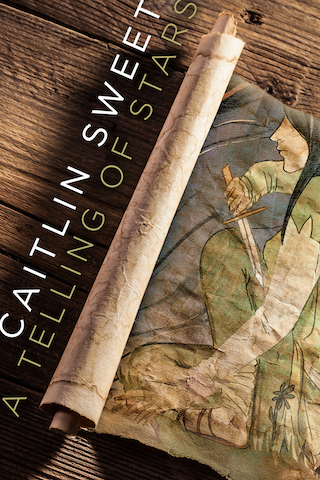 Transactions are made via PayPal's secure online payment gateway. Credit cards are accepted.
In 2003, the publisher wrote:
"At eighteen, Jaele's life is shattered when her family is murdered by a band of Raiders, members of a long-accursed race. Overwhelmed by rage and grief, alone for the first time in her life, and fuelled by childhood myths of a warrior queen, Jaele sets out on an epic quest for vengeance.
Her journey takes Jaele through a kaleidoscope of cultures, some compassionate, some fierce, all remarkably fantastic yet potently real. As she makes her difficult way, Jaele sheds her innocence, but none of her experiences can prepare her for her ultimate confrontation with her enemy."
In 2015, I wrote, as an introduction to the first ebook edition:
"I started A Telling of Stars when I was twenty. I was nursing a broken heart and an unrelated yet equally overwhelming sense of disillusionment with fantasy; I thought I'd try to address the latter, anyway. I'd write a story that was difficult, that offered ambiguity instead of closure, rendered in language that would be lush, as wonder-inspiring as what it described. I'd subvert tropes all over the place. It would be my protest fantasy, and there wouldn't be a single family tree diagram or whiff of capitalized Good and Evil in the entire thing. And I'd write it for me—just me.
I started Telling in a tiny bachelor apartment, on a blustery December night in Montreal; I finished it on a sunny November morning six years later, in a tiny Toronto bungalow. I put it away, then. I had no idea whether I'd achieved what I'd set out to do, all those years before, and I wasn't nearly as vehement and fierce and angry as I'd been then. I was sad, mostly. A dear friend of mine had died, as I was writing; another died as I was revising. They were both in the book, as was the guy who broke my heart, and my first love (who didn't). My protagonist's grief, longing, helplessness and hope were mine. I figured it would end this way, for her: with a manuscript that I put in a box. Years later, though, I hauled it out and reread it. And I got an agent. An editor. A publisher. Readers who weren't my parents and sister. It was a dizzying, amazing thing—until a few years after that, when it slipped quietly out of print. I figured it would end that way.
But…it didn't."