The horrifying roar of Boeing 757 engines; the Enya ringtone of the Nokia phone the convention organizers gave Peter; the grand piano and tourist murmur in Temppeliaukio church; the whir (almost everywhere, outside) of bicycle wheels and thud of joggers' feet; accordion music piped over a tour boat's sound system; the applause of convention crowds; the plangent singing of dwarves; the hiss of water hitting sauna stove; a Swedish drinking song rendered with great enthusiasm by Swedes and Finns alike…There was a lot of bustle and noise, on our most recent trip. All of it (with the possible exception of the accordion music) was wonderful.
We were welcomed to Helsinki with exuberance, warmth and an impressive degree of organization. We ate herring of various sorts, and tar ice cream; drank (or, in my case, sipped gingerly) salt licorice vodka, Bear Beer and, at a wonderful Nepalese restaurant called "Yeti", plain old pinot grigio.

We were surrounded by friends met last year in Uppsala, and ones met mere days ago: from Sweden and Finland, Russia and France, Germany and the UK. On one of my panels, I discovered a penchant for improvisation that I didn't know I had (three words: post apocalyptic Teletubbies). Peter ate fermented shark in order to be made a Viking.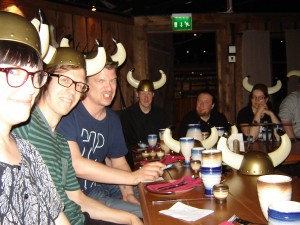 We craned up at a demon baby in a square ringed with cafes and full of bicyclists, walkers, shoppers, baby carriages, and gulls who managed to swoop into the gaps between the fishing wire installed to repel them, and make off with choice bits of patio food.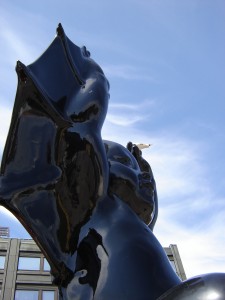 So yes: much wonderful, busy, sometimes cacophonous stuff. Also some pretty remarkable quiet.
I mentioned, above, the grand piano in Temppeliaukio church. It was certainly there, near the modest altar, and there was a woman playing it (some Chopin, some Liszt)—and there was also a rise and fall of tourist voices, in a multitude of languages. But it was sort of disingenuous of me to mention this place in the context of all the others that were so full of clamour, because the sounds here only served to emphasize the stillness.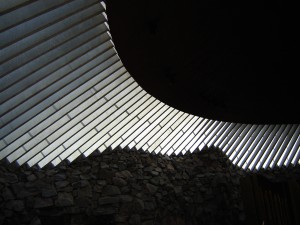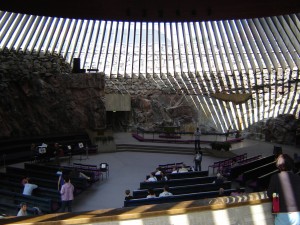 The competition for this church began in the 1930s and was interrupted by World War II. It was eventually designed by the Suomalainen brothers, and consecrated in 1969. It's a Lutheran church, but it didn't even really feel like a building. It's a grotto, a cave; a deep place hollowed out of bedrock. There are organ pipes grafted onto its jagged walls, and rows of pews, and, as I mentioned, an altar—but I kept looking around and up, away from them. From the outside, the church's dome looks like a UFO, sinking slowly into old stone.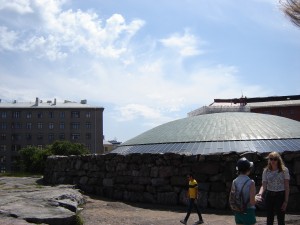 I assume that this place was designed to evoke awe and quiet reflection, and, in my own profane way, I felt these.
Speaking of which: Hietaniemi cemetery.
I've been to a good many cemeteries, here in Canada, some of them lovely, expansive and old. I'm used to iconography of the sort you find there: restrained, mostly. Nothing epic or unusual. So I wasn't prepared for Hietaniemi, where weeping angels and simpering cupids and abstract sculpture and Viking serpents and even the odd hedgehog or two live side-by-side, among names that seem strange and magical to me.
Peter and I wandered a bit there, our first morning in Helsinki. I went back alone a couple of days later. It wasn't enough. And I still can't really figure out how to choose words for this place—so I've decided to use someone else's.
Eeva-Liisa Manner was born in Helsinki in 1921, and died in 1995. I'd never heard of her until I went searching for words to go with the pictures I took in Hietaniemi cemetery. And now that I've heard of her, I'm smitten. Poetry-based smiting is something I haven't experienced since my Lorca epiphany, back in the early 1990s. I imagine that reading Manner's poetry in her own language would be that much more powerful—but translation more than suffices.
These are excerpts. I realize that citing excerpts of poems is as heinous as playing one movement of a symphony—but here I go. Here are some words that make me think of the husbands and wives and children who live in Hietaniemi cemetery.

When my head cracks like a flowerpot,
when my bones crack, my face falls away
I will breathe through the earth what is left in me,
I will breathe through the earth all love
and wrap it around my friends both here and there,
not forgetting the creatures;
in it I will wrap books, pens and clocks,
every familiar object,
mirror, ink-bottle, lampshade,
German dictionary, dog's collar
– let them go sparkling on from hand to hand –
bees' nests and diligent mathematics,
trees' annual rings and calendar lore,
snail's philosophical house and lazy grass snake,
hedgehog's milk charm and swallow's German tongue,
overgrown path and porch's rotted planks
that rain has loved and snow and wind.
In it I will wrap the dates of the calendar,
let them be strewn on paths and in windy colours;
in it I will wrap a child's solitary shoes,
small lost footsteps:
perhaps they will
sense safety
sometimes when it is very difficult,
sense the lingering secret shelter
and go on.
"Games for Solitary People" (1956)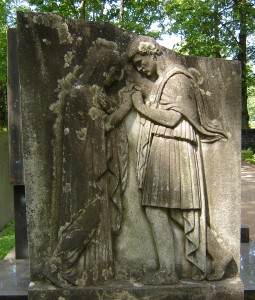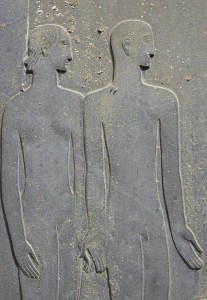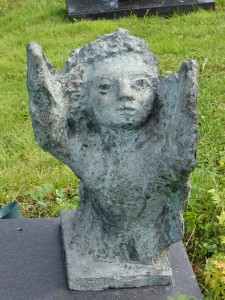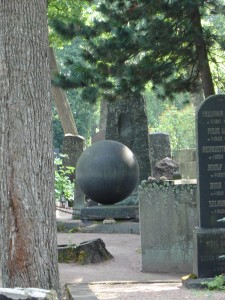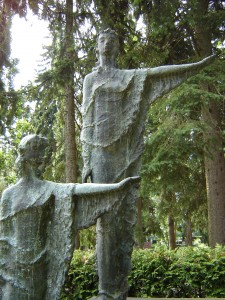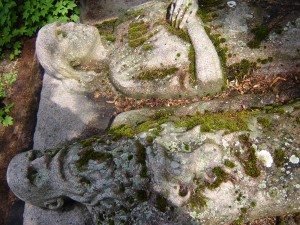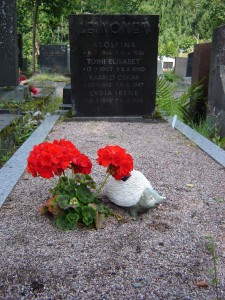 And two more lines, from "Theorem":
shadows gliding on mountains; the image of wind and cloud,
the passage of smoke or life: bright, dusky, bright